If it's broke, repair it. That's the guideline behind Marie Kouadio Amouzame's magnificence model, EADEM. Marie was sick of half-baked options for fading darkish spots and therapeutic hyperpigmentation. As a Black girl, her seek for merchandise that labored along with her pores and skin pointed to a extreme lack of efficient, focused options. But as probably the most revolutionary entrepreneurs know, when the world doesn't offer you what you need, you create it your self.
Marie understood that she wasn't the one one who was pissed off. And so, what started as a private pursuit rapidly grew in scope. She and her co-founder, Alice Lin, determined to begin from scratch and shift the wonder trade from the within out. EADEM (pronounced ee-dem) is "made for path-forging women of color," and with a variety of merchandise formulated for melanin-rich pores and skin, the model is delivering on its promise.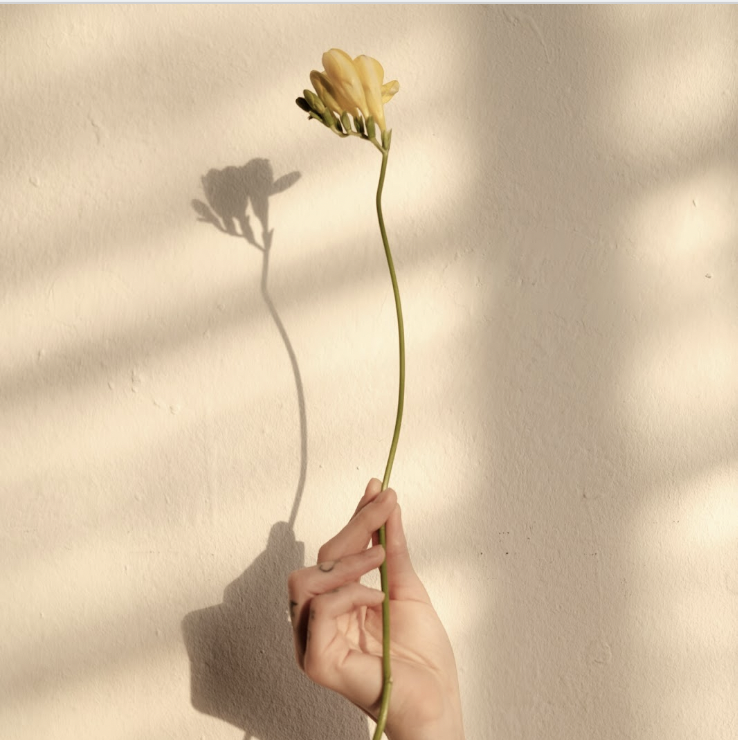 Subscribe
Make it occur.
Get my FREE Vision Workbook straight to your inbox. A useful resource that will help you deliberately set (and understand) targets in six transformative areas of your life.
Thanks for Signing Up!
Oops!
Looks such as you're already signed up or your electronic mail handle is invalid.
As a Black woman, discovering EADEM made me feel seen. Immediately, the language about stubborn scarring from breakouts to bug bites made me think, finally, someone gets it. From even just that initial scroll through the site (and, of course, uncovered through every return visit since), it was clear that EADEM is changing the game for so many skincare lovers like me. Because as someone who was tired of wasting money on products that weren't made for my skin, I knew I deserved something better.
Revolutionizing the beauty industry is no small feat. But according to Marie, "If something needs to happen, I will find a way to make it happen." This clear-mindedness is something I aspire to, and for Marie, it begins in the small moments—like her morning routine.
From spending intentional time with her daughter to calling her mother, Marie has found ways to stay grounded while building a business from the ground up. Her days may be hectic, but her mornings are full of matcha, music, and laughter. Read on to discover the secrets to her success (could it be that skipping the morning face wash plays a role?). Find out more, below.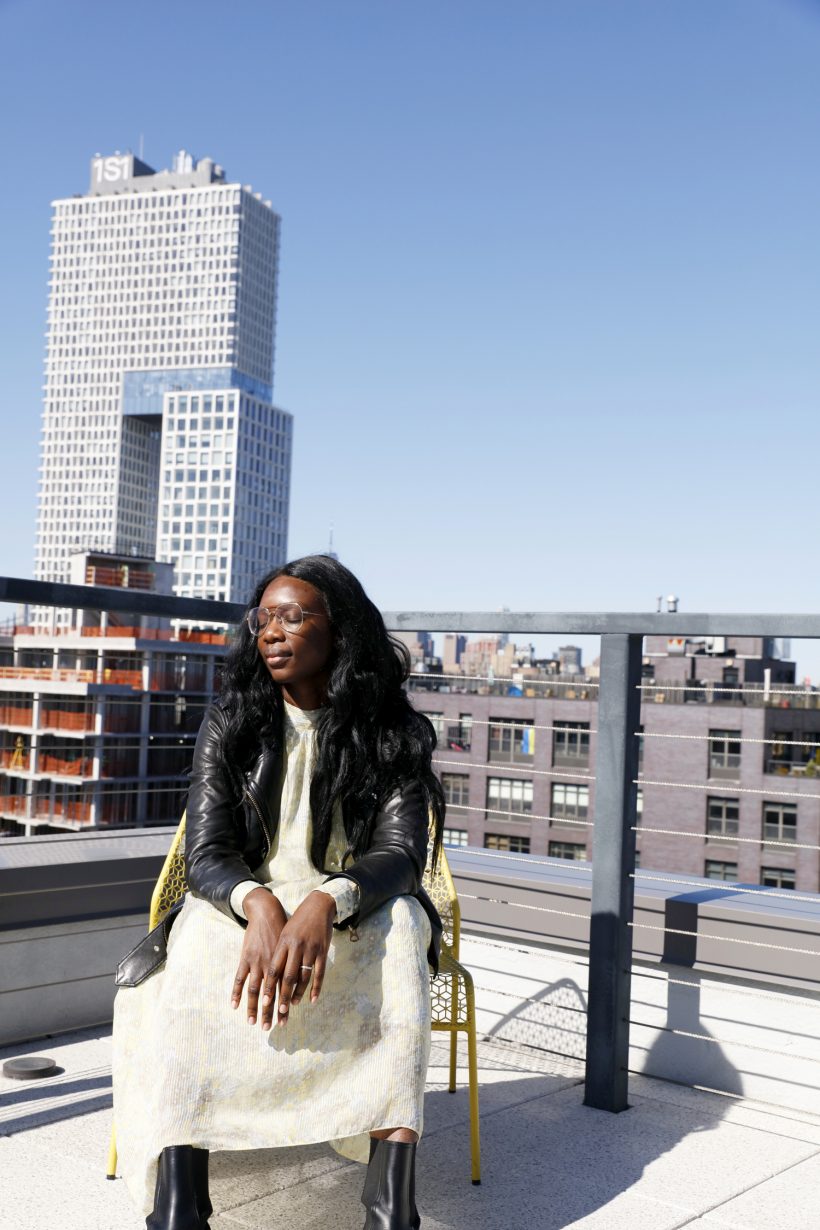 What led you to launch a purpose-driven brand?
My co-founder Alice and I met 10 years ago while working together at Google. We both struggled to find clean and effective products that worked on our melanin-rich skin. We knew we were on to something when we spoke with countless women who were also facing the same issues.
We were seeking products that were not only safe to use but also proven to work on skin of color. Especially the issue we struggle with the most: hyperpigmentation. So we started EADEM, a skincare brand designed for our melanin-rich skin and unique perspectives. 
What has been your biggest lesson over the past year?
It's been a huge learning curve for us as newcomers in the beauty industry building a line designed for women of color. The one thing that really surprised Alice and me was the clinical trial process.
A majority of the time, tests for "hyperpigmentation" actually focus on age spots on older white skin—which are completely different! Our goal is to help post-inflammatory hyperpigmentation in melanin-rich skin without changing the overall skin tone. But putting the work in and doing something to help women like us find skincare that actually works has been so rewarding.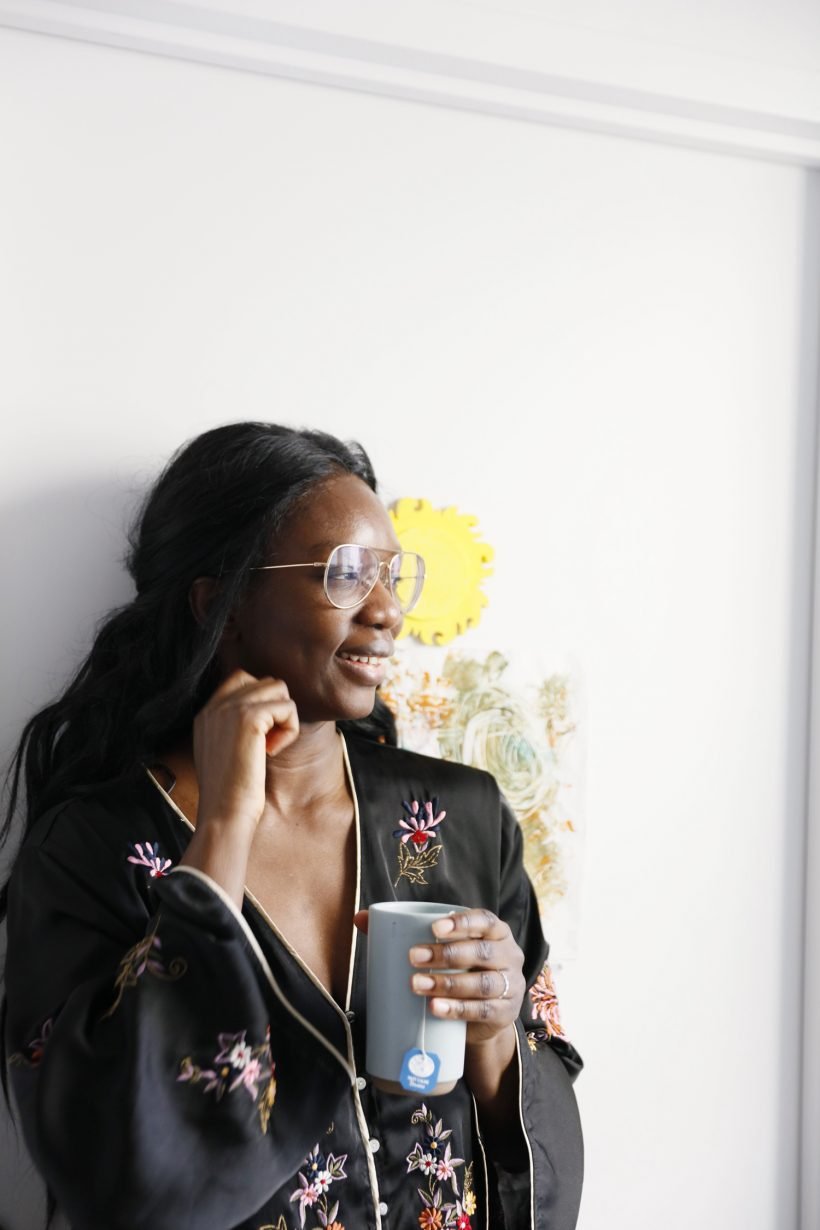 Marie Kouadio Amouzame's Morning Routine
What does a typical day look like for you?
Mornings are always a bit chaotic at our house with two kids running around! I wake up at the same time as my two daughters, and I prepare breakfast as well as everyone's lunch before I pack up our eldest daughter for school. Once the kids are all prepped for the day, I have some time to myself before I dive into emails.
Then I usually make myself a cup of matcha, which helps me put my best foot forward and get started on working on EADEM. We are completely self-funded, and Alice and I are the only full-time employees, so we wear a bunch of different hats. No two days are the same! 
What time is your wake-up call?
I wake up around 7:00 a.m. every day, and I usually get about six hours of sleep if I'm lucky! Moms just learn how to survive with less sleep. Plus I have a restless brain.
What's the first thing you do when you wake up?
Give my daughters a kiss and spend a little quality time with them, reading or playing games before it's time for breakfast.
Describe your morning beauty routine:
I start my morning beauty routine in the shower while listening to some music—usually the Afro Beats Essentials on Spotify. Everything is better paired with a good song!
I'm usually out of time at this point and need to jump on email, so I tie my hair up in a high ponytail and call it a day!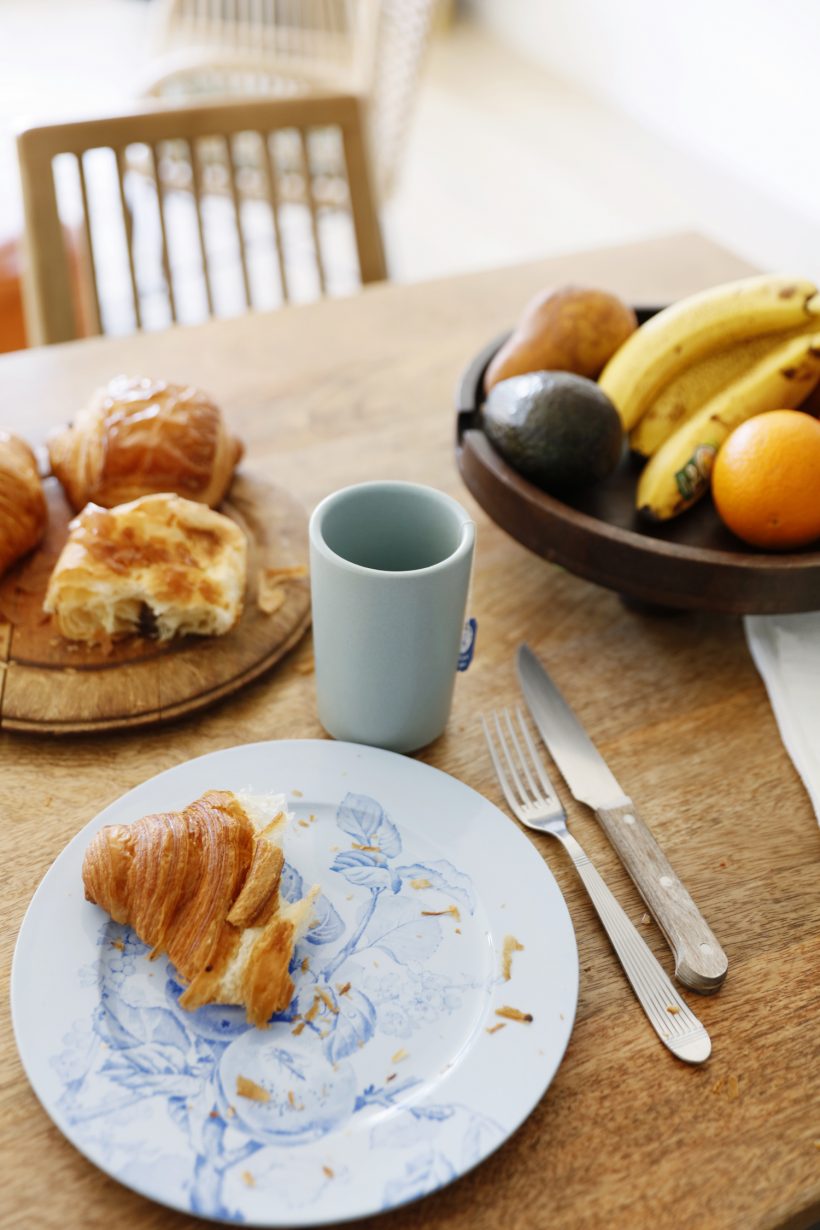 What do you eat for breakfast?
I either make matcha or a simple orange blossom tea, paired with my favorite croissants from La Bicyclette. They're the best in town. When I have more time, I make avocado toast with fried eggs and this chili crunch from Momofuku on prime. It's fast however so flavorful. 
What will we all the time discover in your fridge?
Miso! It goes on every little thing.
What are your favourite books?
Right now I'm studying La Plus Secrète Mémoire des hommes, by Mohamed Mbougar Sarr. He's a author from Senegal and, similar to my household, a French immigrant. He's the primary African to win the Goncourt, France's most prestigious prize in literature. I don't know him, however I'm immensely happy with him!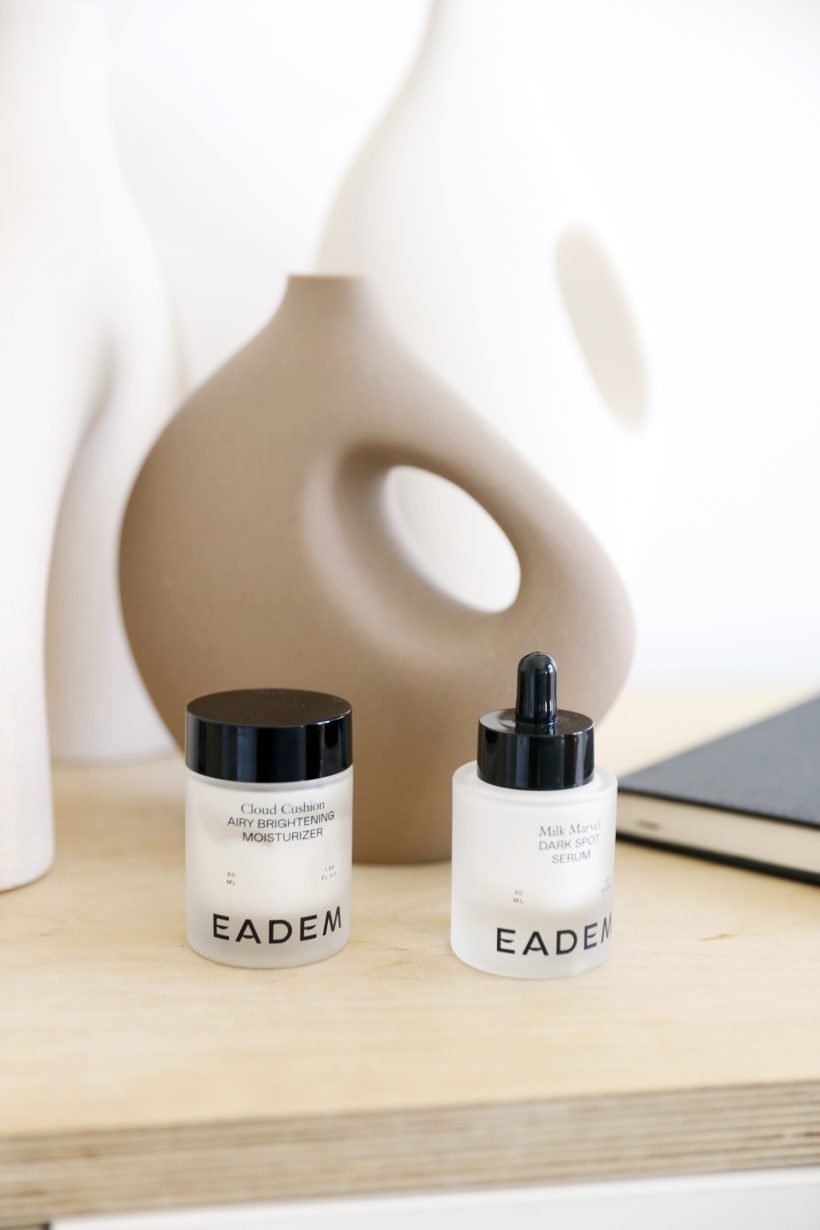 What's all the time in your nightstand?
I attempt to take additional care of my legs and toes in the course of the chilly months. So I all the time have a jar of Cetaphil plus a tube of Kerasal in my nightstand drawer. Combining the 2 truly works! My pores and skin will get very dry in the course of the winter, so that they're a lifesaver. 
Do you're employed out within the morning?
I attempt to go for a 30-minute stroll. That actually helps clear my head and get me prepared for the day. Or I stroll on the treadmill. I'm doing the 12/3/30 exercise (12 inclination at 3 mph for half-hour). It's good cardio with out being too loopy.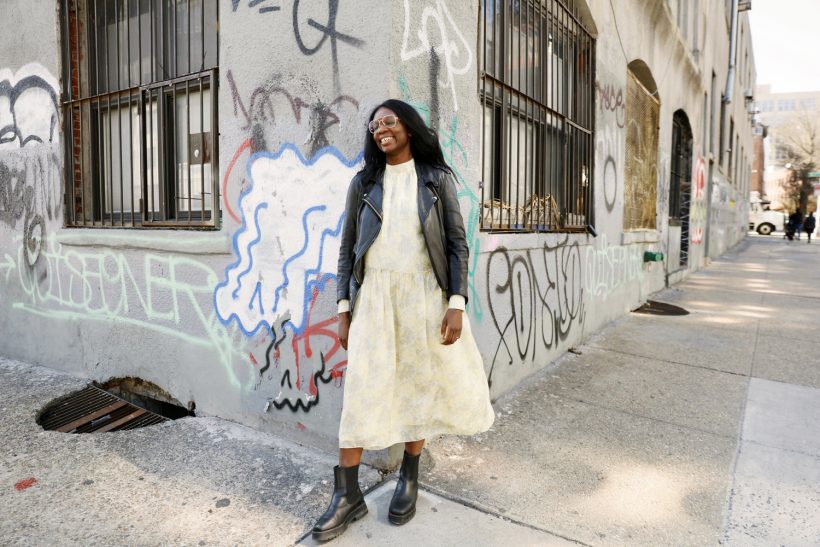 What's your every day uniform?
I all the time go for easy however refined, sticking to my French model. I cherish good high quality, high-end items which are staples.
I like an Acne Studios leather jacket, with an Anine Bing t-shirt, worn over H&M jeans. Then I add some lipstick to make it cohesive. If I am going out for dinner, I'll add a pair of assertion earrings. I actually just like the model Monica Sordo, or I go for a crimson lipstick.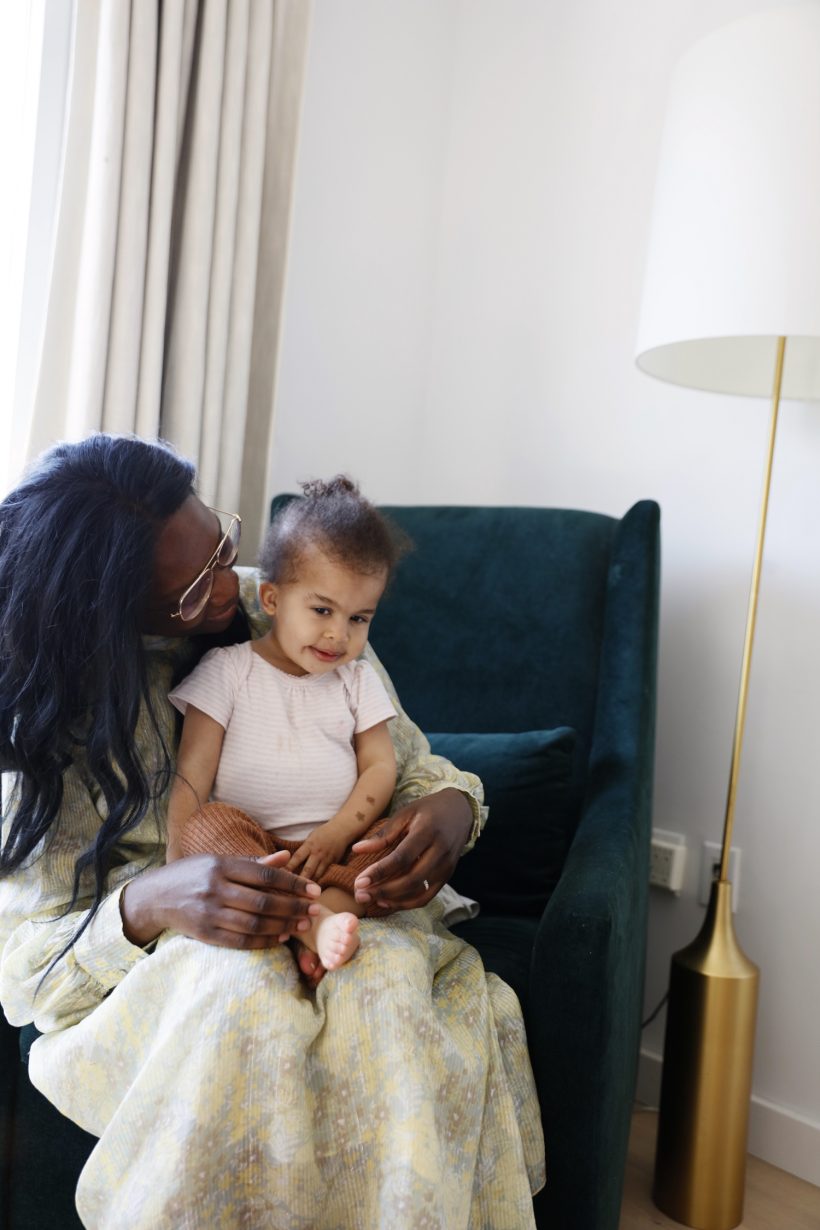 What do you do on daily basis to dwell a extra joyful life?
Playing with my daughters as if I'm a 4-year-old myself! We do that each single day. We roll on the ground, we scream, we chortle. They each climb on my again, and I bounce round whereas listening to some music. This occurs both earlier than or after dinner.
If you could possibly pin your success down to at least one factor, what would that be?
There's all the time a method. If one thing must occur, I'll discover a approach to make it occur. 
Sentence Finishers:
I never leave the house without: A snack! I always have something to eat in my bag. It's a habit I got from childhood because when I was 3 years old, I decided that I couldn't stand the idea of breakfast. My mom would always stuff my bag with things to eat around 10 a.m. 
If there were more hours in the day, I would: Sleep 🙂
Healthiest morning habit: Calling my mom.
Worst morning habit: Skipping breakfast!
One thing I want to be known for is: Being here for my friends and my family.
The book I always recommend: The Subtle Art of Not Giving a F*ck. My old boss recommended it, and I learned a lot from it.
The top trait you need to succeed in life is: Being yourself.
Bath or shower? I love baths, but given the time I have, I have become a shower person. My go-to is The Bodywash by Necessaire. I'm obsessive about the Sandalwood scent. It jogs my memory of candles my mother and father had rising up. Since I dwell on a unique continent, it all the time offers me a way of grounding.