Several months again, our photographer Michelle and I have been planning our upcoming shoots and discussing how a lot we wished a light-filled area to shoot recipes in. As a lot as I love our kitchen, it's truly the spot in our home that will get the least quantity of pure mild, making photograph and video shoots difficult in there. Plus, the truth that it's additionally the place our household hangs out on a regular basis makes it a less-than-idea place for our crew to get inventive work executed.
"It's too bad we couldn't turn your guest bedroom into a studio," Michelle remarked. "It gets the best light in the house."
"Oh I wish!" I answered. But then I thought… wait. Could we?
I couldn't let go of the concept, and throughout the week, I'd satisfied Adam that we actually might do with out our visitor bed room. We're each massive believers in utilizing each space of the house to its fullest capability, and although I didn't precisely love the concept of giving up our solely visitor room, understanding that this new area can be one that may help our each day creativity and collaboration far outweighed our reservations.
Goals for this design undertaking
As I began planning how one can flip this bed room into an precise studio to help every kind of inventive work, I had a few major targets in thoughts:
Kitchen prep area. This can be the area the place we'd be capturing our recipe pictures and movies. Though I wasn't going to have the ability to set up true kitchen home equipment, I wished it to have counter tops and prep areas to perform (and skim) like a actual kitchen.
Maximize the sunshine. We selected this room for the unbelievable mild that it will get, so I wished to place the structure to maximise the angles of daylight all through the day
Create a backdrop for capturing Casa Zuma. In addition to our recipe content material, I wished to have a area the place we might rapidly shoot new merchandise for the Casa Zuma web site. Having plenty of fairly impartial backdrops and open show shelving was a should.
A central worktable for initiatives and collaboration. Crafting, cooking, establishing our laptops for conferences—we would have liked a central worktable and island that was an open area for collaboration.
Budget. I wanted to do all of it on a budget! I knew I'd must get inventive to make this area as stunning as I was envisioning, with out dropping tons of money. I'm proud to say that your complete undertaking got here in at simply over $2,800.
Before and after
On the left: the "before" space when it was setup as our guest bedroom. I really loved the space, but since almost all of our family lives in Austin, we didn't end up using it that much, and I'm not a fan of having rooms that sit empty in a house when they could serve a much more useful purpose! Plus, it was time for Henry to get a bigger bed, and this woven neutral headboard was perfect to repurpose for his bedroom upstairs.
On the right: the after! The new studio has turned out to be an amazing place for our team to work, with tons of light and great energy. The one budget item that I didn't include in my total calculations was plastering the walls, which you'll see adds a lot of depth to the after photo. We actually did this in our mini-remodel a couple years ago that I covered right here.
Scroll on as I break down the main elements that brought this room together…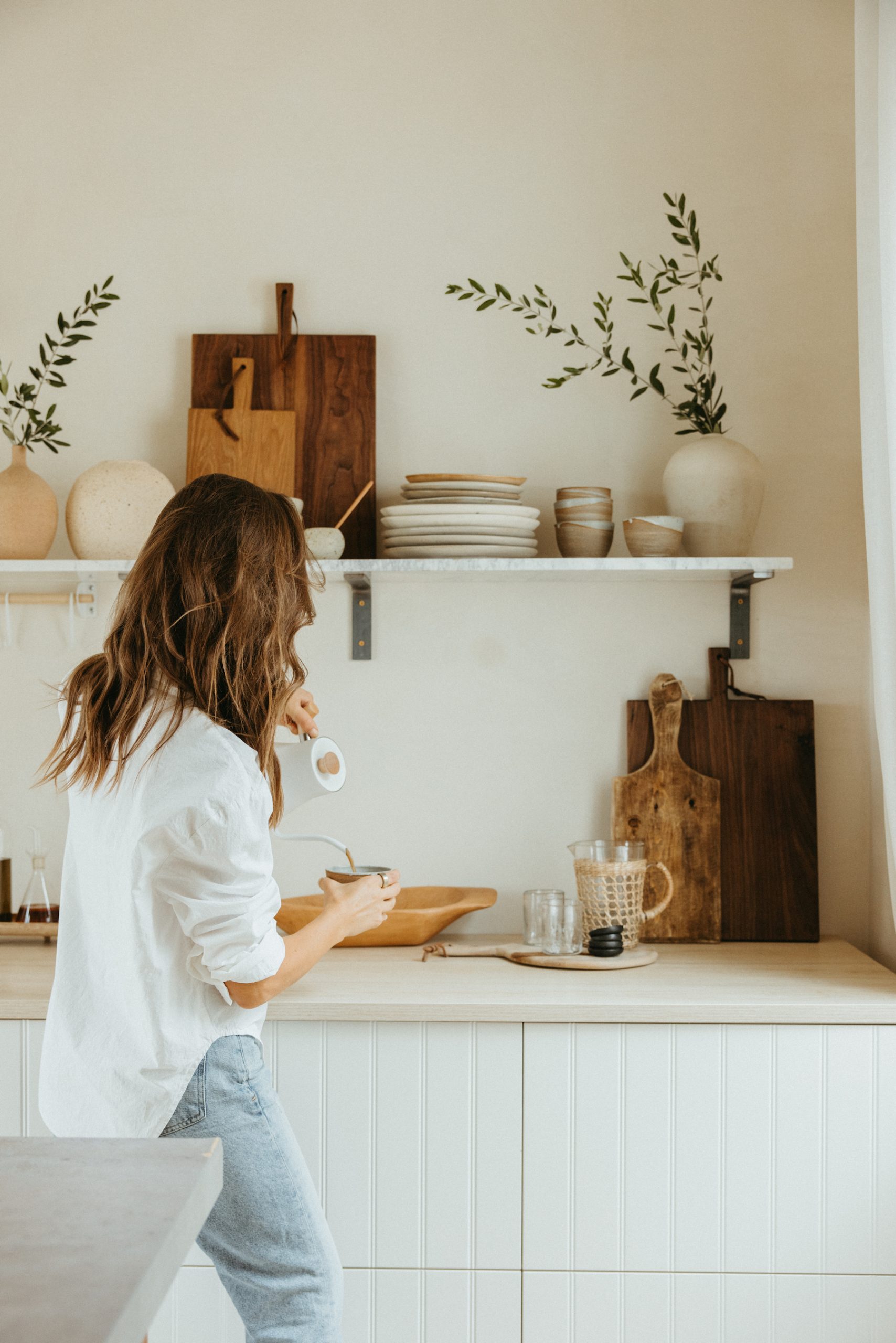 The island / workbench
I searched high and low for a counter-height island that was the right dimensions for this room. It needed to be big enough to provide plenty of workspace, but not so big as to make it difficult for us to freely move around the room. And I wanted something with a timeless, rustic design, and vintage vibes–which meant using reclaimed wood.
My initial search came up empty, but then stumbled upon an Etsy shop called Whatman Barn Furniture that makes custom islands out of reclaimed wood. I reached out and let him know what I was looking for, and 6 weeks later a huge crate showed up in my driveway with our beautiful new island.
I surrounded it with three of my woven leather counter stools from Saffron + Poe, and it feels simply good.
The lower cabinetry and countertop
IKEA scores all the way, baby! I was super excited when I found these sets of drawers with a texture resembling shiplap for that classic, European farmhouse-style vibe I was going for (I think that finish is gone, but there are lots of other good ones. I love the light ash.) I topped them with a big slab of their laminate countertop in a bleached wooden tone, and we have been set. One notice that I discovered the exhausting manner: if you need these to be counter-height, you should definitely order the little legs that go on the underside to lift the counter up off the ground.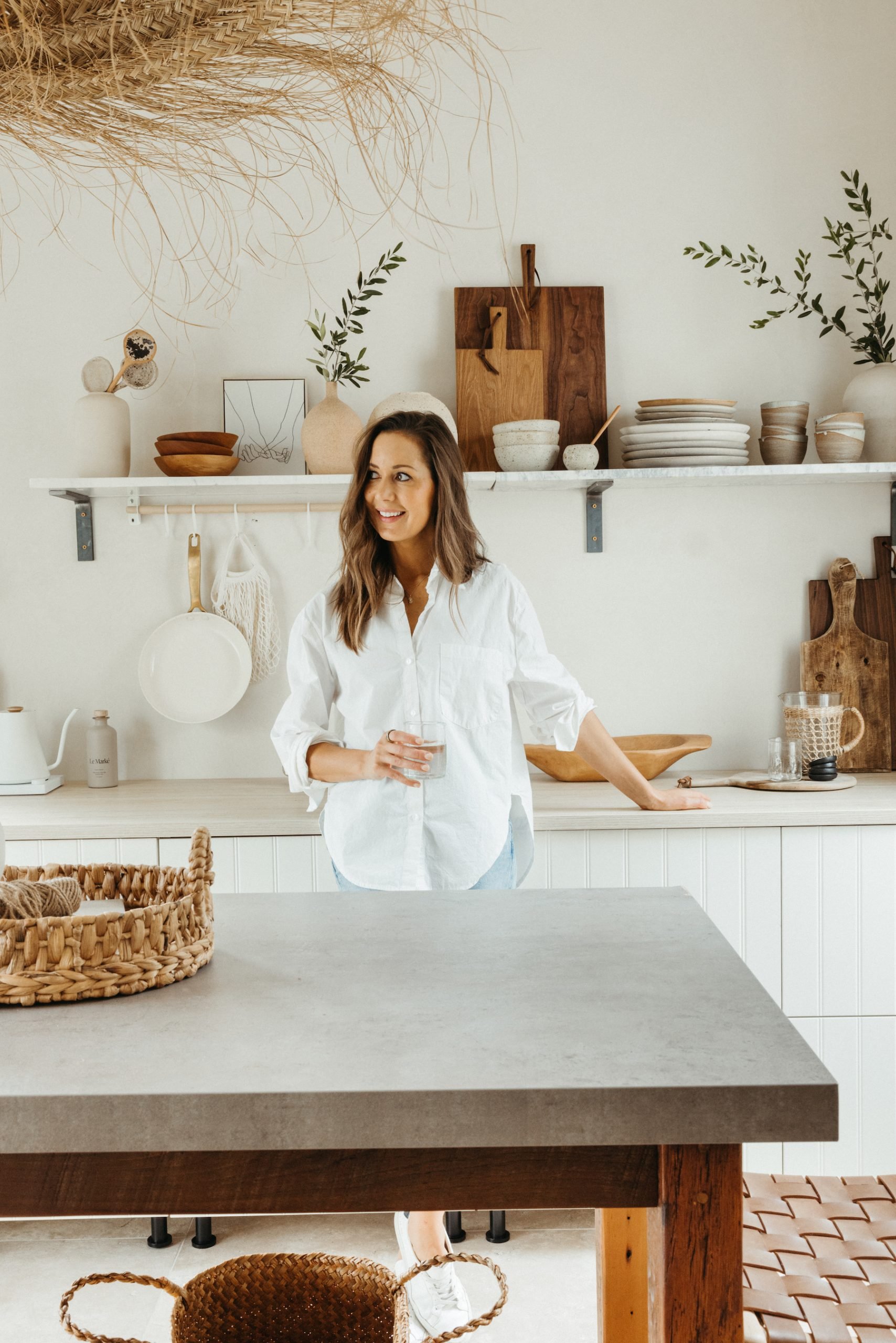 The open shelving
This was a difficult one for a few causes. I wished a single marble shelf that ran the size of the countertop for an elevated, swish spot to show dishes, slicing boards, and Casa Zuma pieces. However marble shelves tend to be (a) very expensive, and (b) difficult to mount because they're extremely heavy. Here was my solution—I'll admit it's not perfect, but it really was the best bang-for-the-buck and I'm mostly happy with how it turned out.
First, I found these marble shelves on clearance at Ballard Designs (sure, that required a deep web search, and sure, typically probably the most unlikely sources turn into a gold mine.) Since I didn't wish to have to chop into the drywall to mount inner brackets, I determined to make use of seen metal brackets for a barely industrial look. I ordered these from Etsy.
Next, it was time to mount them on the wall, which didn't go as easily as I'd hoped. I wished to area the 4 brackets out precisely evenly throughout the wall; nonetheless as soon as we began drilling, we bumped into some inconvenient wall studs that prevented us from inserting the brackets precisely the place I'd wished. We made it work although, by getting a little inventive with the spacing. Progress not perfection is the purpose, guys (I hold telling myself that. And sure, that is in all probability one thing I'll wish to redo later.)
The woven light fixture (it was $39!)
This woven pendant in the center of the room is definitely my favorite steal. I found it on Etsy from the Beldi Boheme shop, and it was exactly the California-meets-Mallorca vibe I was looking for. We removed the ceiling fan that was in the room previously and replaced it with a simple lightbulb pendant that runs right through the center of the straw basket. It's exactly the finishing touch this room needed.